Faye offers presentations and training for your organisation. Whether you want a day of business strategy or a session looking at management dynamics, or a group brainstorming session on new products or services, Faye can offer tailor-made presentations, using different astrological tools, resulting in surprising insight and ideas. An example is VMNH (in Dutch)
VMNH – Vereniging Mediators Noord Holland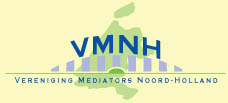 This is a group of professional Dutch mediators who have links with the national group of mediators (NMv), who look after the interests of mediators in both private and public organisations in the Netherlands. The standards that these mediators adhere to, are set by the NMI – Nederlandse Mediation Instituut, an independent body which controls and registers mediators in Holland.
Juxtaposition was asked to do a presentation of the horoscopes of these three groups for the VMNH in honour of their 5th birthday, in June 2007. The qualities of each group were explained along with the opportunities and challenges in the different relationships. How astrology could be used as a tool in mediation was also explained.
This article, which is in Dutch, appeared in the NMv newletter.
Nieuws uit de regio Noord Holland  
Vereniging Mediators Noord Holland vierde in juni 2007 haar eerste lustrum tijdens een druk bezochte dinerbijeenkomst in het ROC (Hotelschool) te Amsterdam.
Ter gelegenheid hiervan is de uiterst charmante astrologe Faye Cossar van Juxtaposition uitgenodigd.
Zij verstaat de kunst van het maken van een horoscoop voor personen, verenigingen, organisaties,  en zelfs landen. Het doel van zo'n horoscoop is het in beeld brengen van de positieve (en negatieve) kwaliteiten van betreffende organisatie of persoon en aan te geven hoe men die positieve kwaliteiten het best kan benutten c.q. inzetten.
Haar beeldende uitspraak:
 "Je krijgt de muziek mee, de choreografie ligt in jouw hand" 
Zij heeft deze avond de volgende karakterschetsen gegeven van de VMNH, de NMv en het NMI:
VMNH:              teken: Stier
Positieve eigenschappen: degelijk en praktisch
Bestuur: heeft een praktische visie
Leden zijn ambitieus; serieus, denken en doen, houden van netwerken (veel tweelingen)
NMv:                   teken: Waterman
Positieve eigenschappen: nieuwe ideeën opperen: wil serieus genomen worden
Bestuur: heeft visie op mediation; wil doelgroep wakker schudden, doorbreken en inzicht geven.
Leden zijn praktisch gericht (veel stieren)
NMI:                    teken: Weegschaal
Positieve eigenschappen: balans zoeken, goede partner; beide kanten wegen;     structuur aanbrengen
Bestuur: (kwaliteits) Contrôle gericht; wil serieus genomen worden
Leden: zijn vooral gericht op het aan de man brengen van mediation
Zo heeft Faye laten zien dat deze drie organisaties/verenigingen alle drie hun eigen invalshoek kiezen om mediation onder de aandacht te brengen en op welke punten zij hun kwaliteiten nog beter zouden kunnen inzetten om mediation steviger in de markt te zetten.